In China, cucumbers are considered the ideal foil for hot weather and hot food. Versions of this salad, pai huang gua, are served all over the country, sometimes spiked with dried chiles and Sichuan peppercorns for more dimensions of flavor.
The smashing process, a classic Chinese technique, cracks the skin, helps release the seeds and splits the flesh into appealing craggy pieces. Salting and chilling the cracked cucumbers give them the perfect cool, crunchy, watery mouth feel.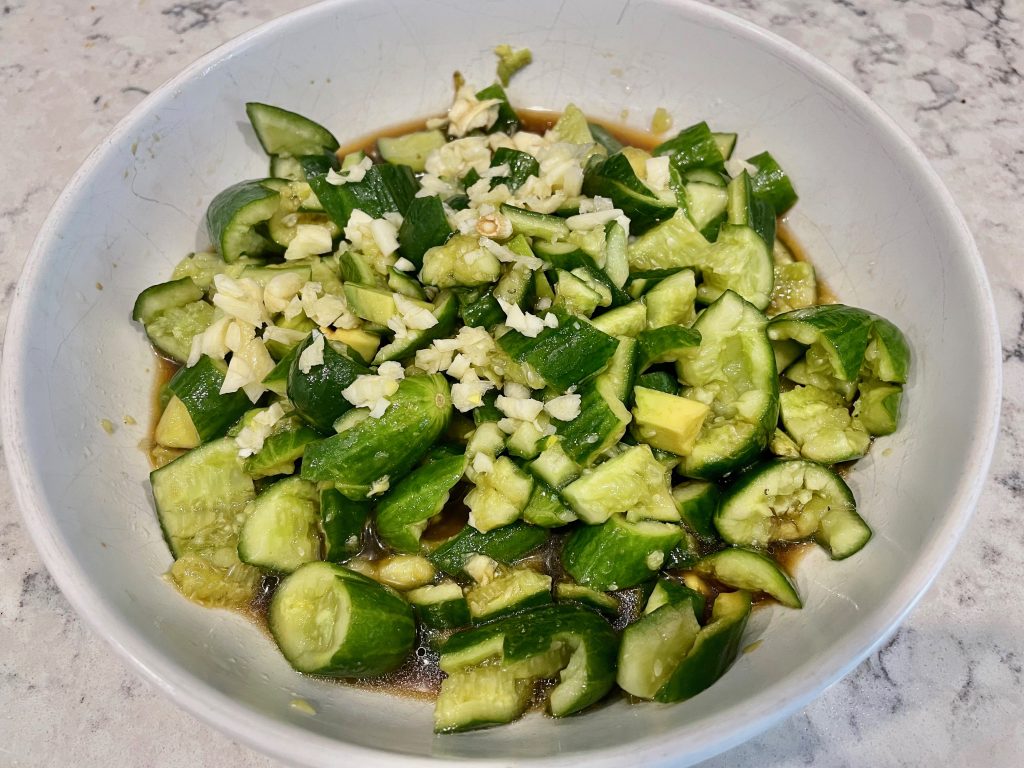 2 pounds thin-skinned cucumbers like English or Persian (8 to 10 mini cucumbers, 4 medium-size or 2 large greenhouse)
1 teaspoon kosher salt, plus more for cucumbers
2 teaspoons granulated sugar, plus more for cucumbers
1 1/2 tablespoons dark vinegar
2 teaspoons sesame oil
2 teaspoons soy sauce
1 tablespoon oil (preferably peanut oil or other flavorless vegetable oil)
2 large garlic cloves, minced or put through a press
Red pepper flakes, to taste
Small handful whole cilantro leaves, for garnish
2 teaspoons toasted white sesame seeds, for garnish (optional)
Step 1:
Make the dressing first: In a small bowl, combine salt, sugar and rice vinegar. Stir until salt and sugar are dissolved. Stir in sesame oil and soy sauce.
Step 2:
Rinse cucumbers and pat dry. Cut crosswise into pieces about 4 inches long. Cut each piece in half lengthwise.
Step 3:
Put the cucumbers in a big ziplock bag with the cut side down and close it up. Lay the blade of a large knife flat on top the cucumbers/bag and smash down lightly with your other hand. The skin will begin to crack, the flesh will break down and the seeds will separate. Repeat until the whole piece is smashed. You can also take out the smashed cucumbers and break or slice diagonally into bite-size pieces, leaving the seeds behind.
Step 4:
Place the cucumber pieces in a strainer and toss with a big pinch of salt and a big pinch of sugar. Place a plastic bag filled with ice on top of the cucumbers to serve as a weight and place the strainer over a bowl. Let drain 15 to 30 minutes on the counter, or in the refrigerator until ready to serve, up to 4 hours.
Step 5:
When ready to serve, shake cucumbers well to drain off any remaining liquid and transfer to a serving bowl. Drizzle with oil and toss. Add half the dressing, half the garlic and the red pepper flakes to taste, and toss. Keep adding dressing until cucumbers are well coated but not drowned. Taste and add more pepper flakes and garlic if needed. Serve immediately, garnished with cilantro and sesame seeds.
I used Lao Chen cu (aged Shanxi dark vinegar) instead of rice wine vinegar. The dark sorghum vinegar adds complexity to the dish and will result in a much more authentic tasting dish (it's typically available in most Chinese grocery stores).