This easy Avocado Ranch Chicken Salad is loaded with flavor (and contains no mayonnaise) for a deliciously lighter version of a typical chicken salad. It is paired with our favorite fresh vegetables and wrapped in a light flatbread or lettuce for a low cal lunch that will keep your belly happy all day long!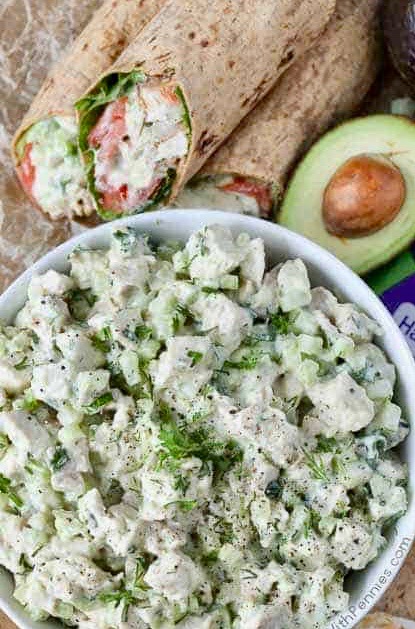 2 cups cooked chicken
4 lettuce leaves or 4 light
1 avocado peeled & pitted
½ tablespoon lemon juice
⅓ cup fat free Greek yogurt
⅓ cup light ranch dressing bottled or homemade
1 tablespoon fresh dill
1 tablespoon fresh parsley
salt & pepper to taste
1 cup diced celery
tomato slices (optional)
Step 1:
Place avocado and lemon juice in a bowl. Mash until almost smooth (a few little chunks are ok).
Step 2:
Stir in yogurt, dressing, dill, parsley and salt & pepper. Add chicken and celery and mix well.
Step 3:
Place one light Flatout flatbread on your surface. Top with lettuce and tomato if using. Add chicken mixture and roll snugly. Slice in half and serve.