I love fruits and also a big fan of fruity desserts. These fabulous pineapple cupcakes are moist, buttery, and loaded with crushed pineapples. I'm sure they'd be even more fabulous with pineapple frosting swirled on top!
270g all-purpose flour
1 teaspoon baking powder
½ teaspoon salt
125ml milk
100g unsalted butter, melted
80g white sugar
1/2 teaspoon vanilla extract
2 large eggs
1/3 cup almond slices (optional)
20-ounce can (567g) pineapple chunks, undrained
Step 1:
Preheat oven to 350 degrees F (175 degrees C). Coat muffin pans with non-stick spray, or use paper liners.
Step 2:
In a medium mixing bowl, sift together the flour, baking powder, and salt. Stir with a whisk to combine. Set aside.
Step 3:
In a separate large mixing bowl, combine the milk, butter, sugar, and vanilla extract. Beat in the eggs, one at a time, mixing well after each addition.
Step 4:
Drain the pineapple chunks and set aside 50ml juice. Cut the pineapple chunks to smaller pieces. Set aside 1/2 cup pineapples. Add the remaining cut pineapples, 50ml pineapple juice, and almond slices to the batter.
Step 5:
Fold in flour mixture, and mix with the batter until smooth. Scoop into muffin pans. Arrange the remaining cut pineapple pieces on top of each cup.
Step 6:
Bake in preheated oven. Bake mini muffins for 10 to 15 minutes, and large muffins for 25 to 30 minutes or until a wooden toothpick inserted into the centers comes out clean. Muffins will spring back when lightly tapped.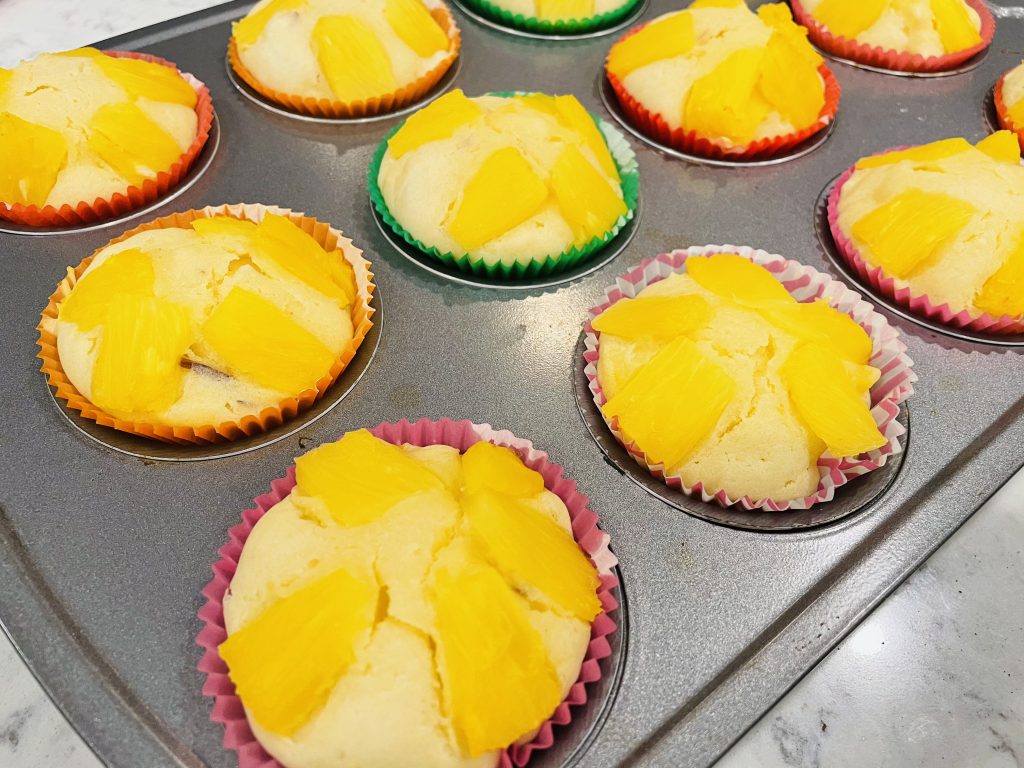 Cool the cupcakes in the pan for 5 minutes before transferring them to a wire rack to cool completely.
These muffins are perfect with pineapple frosting or coconut buttercream frosting.